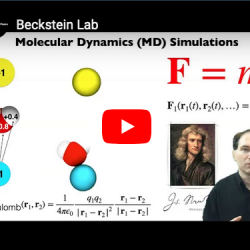 Video introduction to work in the Beckstein Lab
The Beckstein Lab at Arizona State University works in the area of Computational Biophysics. We use the computer as a tool to understand processes and mechanisms fundamental to living things. We are also heavily involved in open source software, with contributions to multiple projects that are widely used in the biomolecular simulation community.
Watch the video below to learn more about the fundamental ideas and approaches. The video is geared towards anyone new to the field and who wants to figure out if biophysics might be for them.
Summary
Everything is made from atoms: living things consist of molecules, molecules are made from atoms, and in the interaction between molecules and their environment (which consists of other molecules and forms of energy), the processes of life emerge.
What are biomolecules?
Molecular Dynamics (MD) simulations are a powerful tool to model the dynamics of biomolecules.
One key process in cells: transport across the cell membrane by transmembrane proteins
MD simulations reveal the molecular mechanism of a transporter protein.
Get in touch with us!
Video
This 7-min video gives an overview over the work in the lab: