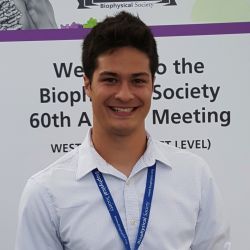 Sean Seyler is a 2016 College of Liberal Arts and Sciences Student Leader
Sean Seyler was named by the Department of Physics as one of the 2016 College of Liberal Arts and Sciences Student Leaders. Since 1997, the College of Liberal Arts and Sciences (CLAS) at ASU has been recognizing distinguished students throughout the College.
Sean will be recognized with the other 2016 Student Leaders (including lab mate David Dotson) at a special reception hosted on Oct 21, 2016 by Dean Patrick Kenney. He will get an opportunity to network with current and former CLAS Alumni Leaders as well as hear from the 2016 CLAS Alumni Leaders such as Dan Kolk, who is the lead scientist/senior director of product development for Hologic, formerly Gen-Probe, a leading global healthcare and diagnostics company; Najla Arekat, who founded and serves as principal of ADL Global Capital, a registered investment advisory firm with a multi-billion dollar portfolio and hedge fund; and Nick Lambesis, who is the founder of branding and design agency Lambesis, which is known for creative and iconic international brands such as Airwalk, Campari and Dasani.